Meet Huda and Waseem. The two mid-twenties from Somalia and Sudan (respectively) will run the show at CRP's new downtown center, which opens next week and will focus on Sudanese and Somali refugees from nearby neighborhoods.
"I want the new center to be as stable as this one (CRP's Family Resource & Community Center in East Amman). I feel like this center provides stability and a routine to both the beneficiaries and the staff members, which is crucial for people in vulnerable communities." Huda fled Somalia with her family six years ago. The civil war, which has been ravaging the East-African country for over 25 years, had made it impossible to guarantee the children's safety and well-being there. Militants like ash-Shabab routinely raid villages and devastate communities, so her parents decided to move the whole family abroad. Initially they tried to register at UNHCR and get resettled to North America, "but we got rejected. We appealed the decision but got rejected again. So now, we are stuck here; we can't go back to Somalia."
Huda joined CRP together with Waseem in August. Both of them took a course on psychosocial case management at the Jesuit Refugee Service before interviewing for the volunteer position at CRP. One of CRP's greatest assets are our local volunteers. They create strong bonds between our organziation and the community we serve. So as we started planning on opening a new center geared towards Sudanese and Somali refugees, we knew that we wanted highly motivated and compassionate individuals from those communities to lead our efforts.
Our current center in the neighborhood of Hashemi Shamali, which will remain as strong as important as ever, is in a prime location to help Iraqi, Syrian, and Jordanian beneficiaries. "Hashemi Shamali is quite far for the Sudanese and Somali people, who are mainly in Jabal Amman, Jabal Hussein, Jabal Jofar, and downtown, so coming here is inconvenient. A new center downtown will make sense for everyone; it's in the middle of all the 'Jabals,'" says Waseem. (Jabal is Arabic for hill or mountain).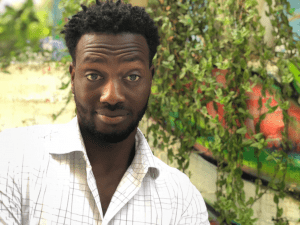 Waseem is enthusiastic to get the new center underway. When asking him about the most important distinguishing factor at CRP that he would also like to implement in the new center, he does not hesitate. "Helping the local community is really important. When I first started working here, I asked if I could register Jordanians also, and they said yes. I think this is the most important distinguishing feature."

Huda nods in agreement. "CRP accepts anyone who needs help, even Jordanians. Other organizations may just help one specific group like Iraqis, Syrians etc., but CRP accepts everyone who is in need. They can just come and apply for food vouchers. I think this is something that distinguishes us from other organizations."
Though primarily targeting Sudanese and Somali refugees, the new center will be open to everyone, regardless of country of origin.
We need you to partner with us as we open this new venture and help some of the most vulnerable refugee groups living in Amman. Sign up as a monthly donor today.
Both of these young people know how it feels to flee a country, to be a total stranger in a new environment and to face challenges like not being able to go to school or work. Huda stares into the distance for a moment before explaining:
"It's really difficult to be a young person in Jordan if you can't work or study or anything. You're gonna get depression if you don't do anything. So I tried to enrol into different courses and programs, like English courses and the one that Waseem did, the psycho-social case management course. CRP got in touch with me through the list of this course's participants. The interview went smoothly and I feel very lucky to have this job."
Huda now wants to give back to her community and others in need, and to provide them a safe space to build social cohesion, heal and educate themselves for the future.
"I think English courses are very important. Most of the refugees seek resettlement, so English courses will be very beneficial to them or even computer skills like ICDL (where people learn English by skyping to native speakers) would be very interesting to them. Also, for teenagers or children, even if they don't learn anything 'substantial', just coming here and having a community where they can find familiar people they can connect with is extremely important."
Waseem murmurs in agreement as Huda continues: "The majority of parents we visited during home visits told us about their children being bullied, beaten up and excluded at school. (With the new center,) at least they will have some people who look like them and treat them nicely so they can have friends, they can adapt. This will be very crucial for them."
Finally, we wanted to know what Huda and Waseem thinks about the work environment at CRP, as they will be recreating some of it in the new center. For Waseem, it is clear that representation, respect and transparency among the staff members, interns and volunteers is very important.
"I like the superiors here, they are very respectful. You really feel like you can go and talk to them normally. If you have a boss and you feel like there is a big barrier between you and him or her, you're not gonna feel really comfortable. But we feel very comfortable here. If there is anything you want to discuss, they welcome you anytime."
We feel very happy to have the two East-African youngsters on our team and can't wait to see them run the new center!