Every day at one o'clock, CRP's staff and volunteers pause their work to gather together for lunch. We paused this practice during Ramadan, when many staff members were fasting, but restarted the first week of July. For many families in Jordan, lunch is the main meal of the day. In the winter, we eat indoors, but when the weather is nice, we like to gather outdoors to eat at picnic tables under fig trees.
"It's really important for staff to bond," Reina Sultan, a summer intern working with the Hope Workshop, says. "It fosters open communication."
Um Thamer, an Iraqi woman in CRP's community, prepares the meals. Um Thamer and her family had almost completed the interview process to be resettled in the United States when President Trump issued his initial executive order travel ban in January, and now her family lives in uncertainty as to whether the process will ever start again.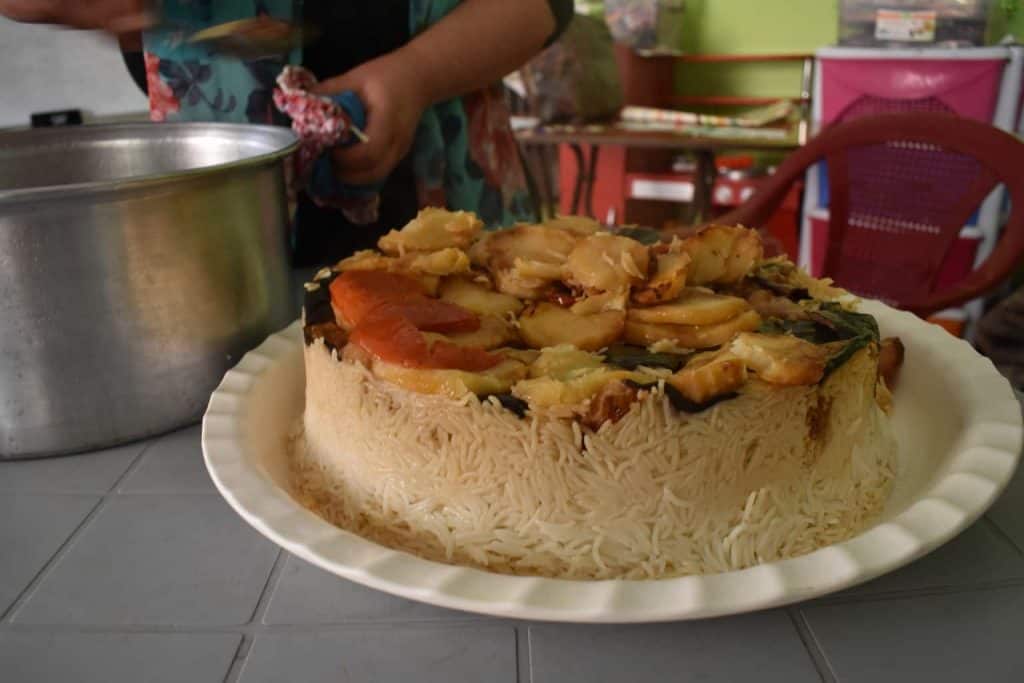 Um Thamer's meals are vegetarian, in order to ensure that they are appropriate for all the diets of CRP's staff and volunteer community. We buy the ingredients for the food at local grocery stores and produce stands. Every week, Um Thamer cycles through a menu of mujaddara, a dish comprised of lentils, rice, and fried onions; fasulia, a stew made of white beans; tipsi, an Iraqi vegetable casserole; and vegetable maqlouba, a rice-and-vegetable dish whose name means "upside down," as the cook flips the pot over just before serving. The dishes are generally the same from week to week, but we occasionally change things up. In the early spring, the staff gathered together to grill meat and vegetables on the CRP patio, and once, staff-member Abu Qais showed off how Syrians eat ful, a dish made of fava beans that is a staple of the Levant diet.
Tim Loh, Programs and Administrative Manager, likes the tipsi best. "It's served on a big tray, and everyone shares from it, and I think that's a nice image," Tim says. Tim also believes that the lunches helped integrate him into the staff when he first started working at CRP this past September. "At the start, it was a real opportunity to become more comfortable with the staff," he says. "When I first came I didn't speak much Arabic dialect, and I was really shy about my language in general, but in staff lunches, when everyone sitting around you and talks in Arabic, you're forced to participate. It helps to socialize people into CRP culture."
Try this recipe for mujaddara and let us know what you think!